Product Display
HR-10KWET High frequency blister welding machine
| | |
| --- | --- |
| Model: | HR-10KWET |
| Scope Of Application: | high frequency packaging of blister+ paper card, and any other PVC material welding |
| Features: | Multiple working position welding and cutting machine, 8KW-25KW,one mould with multiple output, |
| | |
Multipurpose Turntable High Frequency Blister Sealing Machine
Application:
1. To seal blister of PVC, PET, PET-G, PET-GAG, A-PET...
2. Clear blister packaging
3. Plastic clam-shell packaging
4. Plastic Blister with plastic blister packages
5. Plastic blister with cardboard packages
6. Positive/negative blister forming and packaging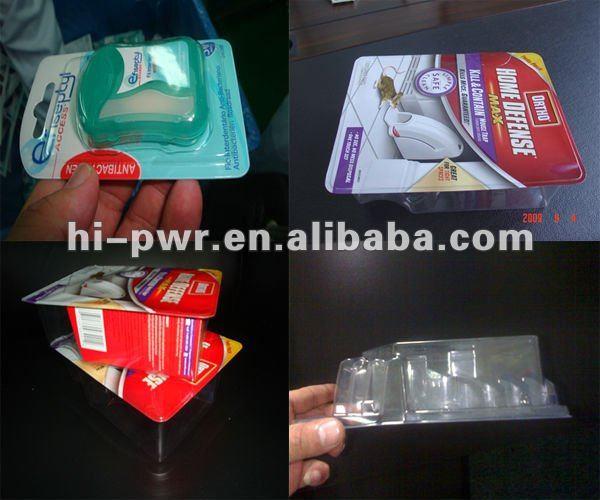 It is especially designed for HF welding is a perfect machine for production of blister packages,
But it is multipurpose machine, for it can be used for industry like PU leather cover for pad,, safety vests, reflective signs, inflatable toys, cosmetics, folding packing box, automotive, medical, rehabilitation, packaging, recreation, textile and clothing, reflective garments,.etc.
The HF blister packaging welder series have HF power outputs from 5KW to 35KW 30kW for multi-cavity production loads and specialized products.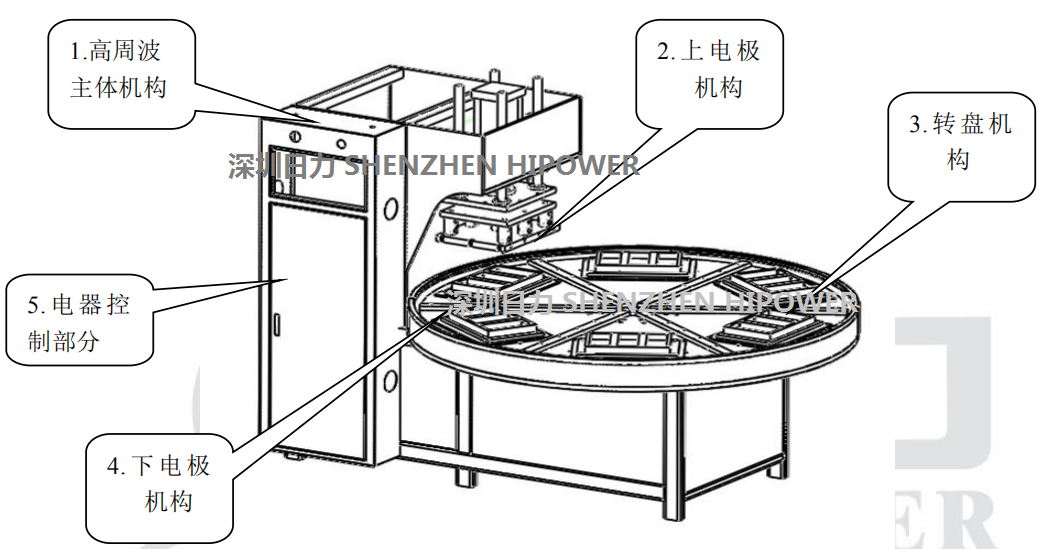 Specification:
Model HR-8000WET HR-10KWET HR-12KWET HR-15KWET
Output Power 8000W 10000W 12000W 15000W
Anti-Spark System U.S.A. PL-5557 High sensitive anti-spark system
Voltage 3P AC 380V/220V/440V 50Hz-60HZ or customize
Frequency 27.12MHZ
Input power 15KVA 18KVA 20KVA 25KVA
Rectifier SILICON DIODE
Oscillation tube 7T69RB E3069 E3130 8T85RB
Max pressure 500kg 500kg 800kg 1000kg
Operation mode Pneumatic Operated (Hydraulic pressure upon request)
Max gap of electrodes 200mm
Size of active horn 150mm
Working Stations: Standard 3 ,4 , 6 , 8 Rotary work stations
Upper Electrode (W*H*L) 300*400mm 300*400mm 350*450mm 400*500mm
Size of Work Table (L*W) 350*450mm 350*450mm 400*500mm 400*500mm
Welding time 0.01~9.99s adjustable
Net weight 1500kgs 1500kgs 1500kgs 1500kgs
Foreseen productivity: 5/7 cycles/min depending on welding and rotating times, and operator skills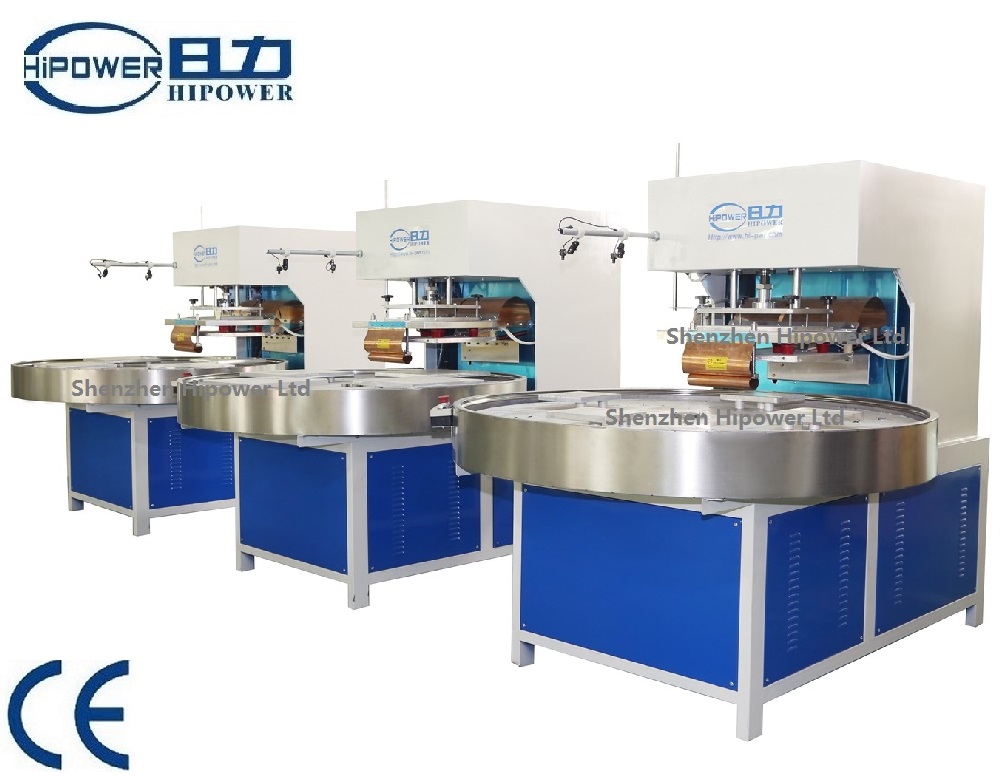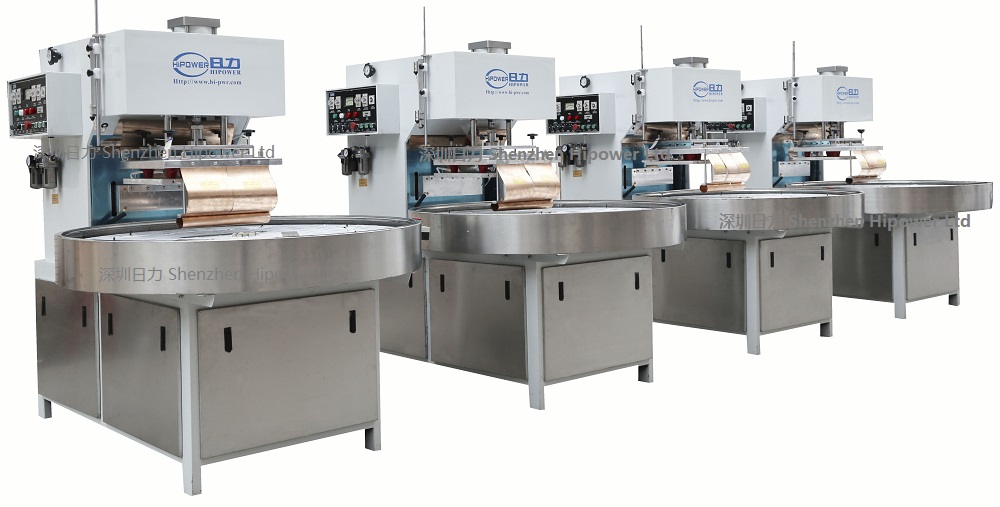 Machine General Features:
1. Anti-flash system, to protect the tooling / mould; C-Frame welded steel structure with integrated HF generator
2. Equipped with special high precision rotary indexing gear controlled by frequency inverter.
3. Automated HF weld cycles with adjustable rotating speed
4. With the use of touch screen HMI and programmable PLC operator can easily input parameters set.
5. Heated Upper platen with thermostat, for helping HF sealing process
6. Close off HF welding function, the machine can be use as Standard Heat Welder
7. Universal usage for PVC, PET-G,A-PET,GAG, PU, PET, PLA films
8. European-model square high frequency vibration box, more reliable and stable in output
9. CE rated machine; factory verified by SGS and BV;
10. Customer's site installation, training & maintenance available
11. Online service by Email, Fax, Video Online- allowing remote live video servicing of basic setup and repairs through the use of face-to-face online video.
12. High frequency welding press pneumatically operated
Optional Features:
1. Fully shielded HF weld area with side safety gate
2. Touch screen programmable HMI / PLC
3. Protective HF radiation shield standard
4. Auto-tuning system optional
5. Hydraulic pressure