Product Display
HR-8000Z High Frequency PVC Soft Crease Box Forming Machine
| | |
| --- | --- |
| Model: | HR-8000Z |
| Scope Of Application: | Applied to PVC soft crease folding boxes forming from pvc roll. |
| Features: | Automatic soft crease box forming machine; feeding ROLL material, with simple PVC flattening system, |
| | |
HR-8000Z high frequency PVC soft crease forming machine
also known as PVC folding box /Offset Printing Folding Boxes/PVC foldable box
Application:
It is especially designed for Clear Packaging Boxes, soft crease box forming, PVC folding box, Transparent Foldable plastic box making.
The plastic box can be made of PVC films.
Depend on plastic material type: Film Sheets or Plastic Roll, you can choose a semi-auto machine, or an automated machine.
Products: For PVC Box
Your customer will be happy to buy the products packed in clear / transparent plastic box, since they can know the products clearly
without opening the package.
On the other hand, the see-through packaging method attract attention of customers, young or old.
Model HR-8000Z HR-15KWZ
Output Power 8000W 15000W
Anti-Spark SystemU.S.A. PL-5557 High sensitive anti-spark system
Voltage 3P AC 380V/220V/440V 50Hz-60HZ or customize
Frequency
27.12MHz +/- 0,6 %
Input power
15KVA
25KVA
Rectifier
SILICON DIODE
Oscillation tube
7T69RB
8T85RB
Max pressure
1000kg 1500kg
Operation mode Pneumatic Operated
Max gap of electrodes 200mm
Size of active horn 150mm
Uppe

r Electrode (W*H*L) 500*700mm 700*800mm
Size of Work Table (L*W)
500*700mm 700*800mm
Mould Heating Temperature30-200℃ Adjustable
Welding time 0.01~9.99s adjustable
Net weight 1500kgs 1500kgs
Foreseen productivity: According to welding times and operator skills
Sample Views: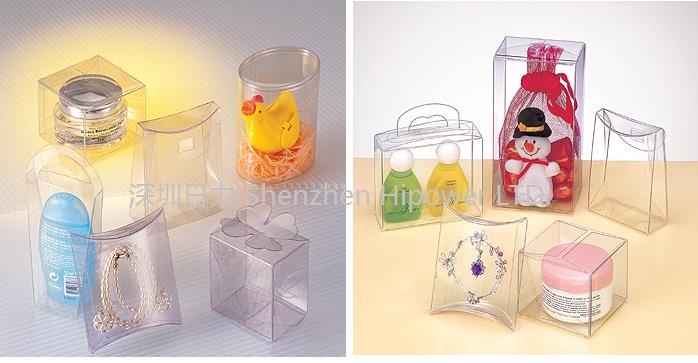 Machine Views: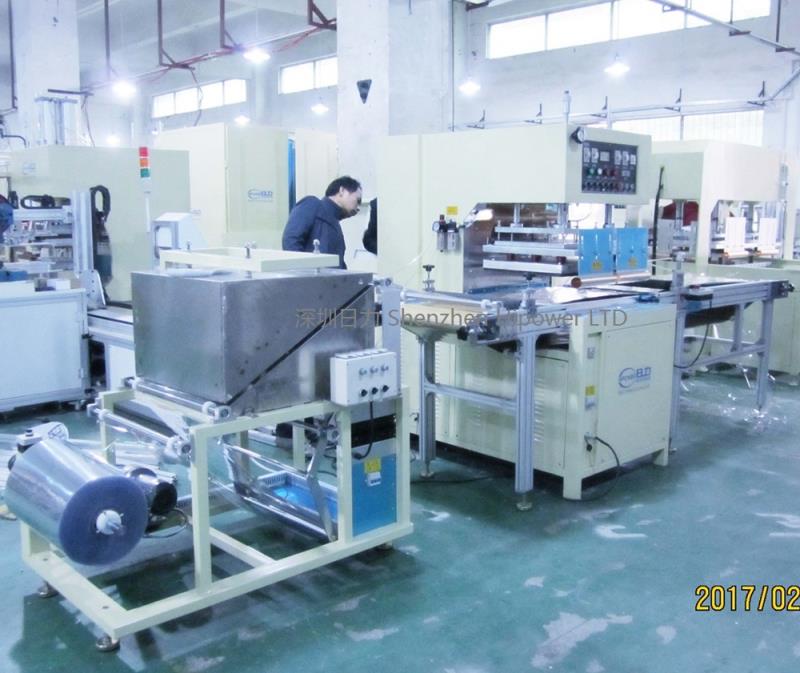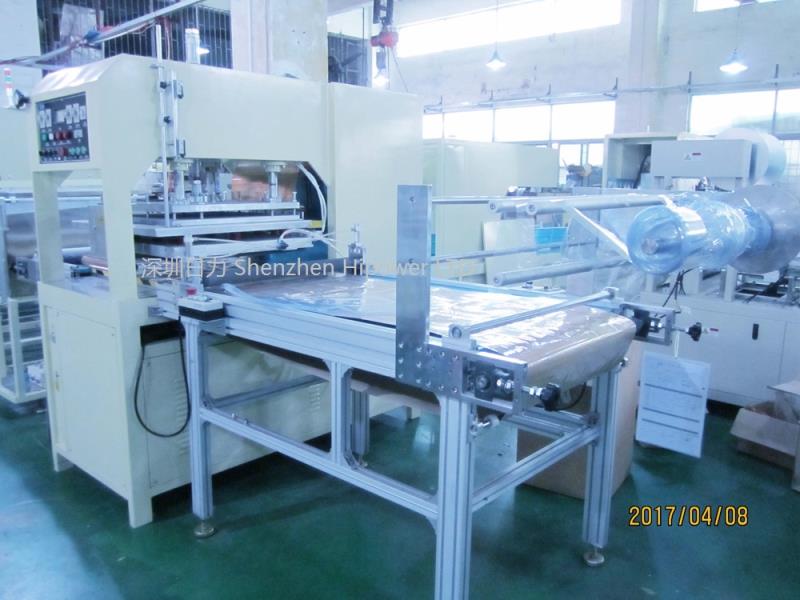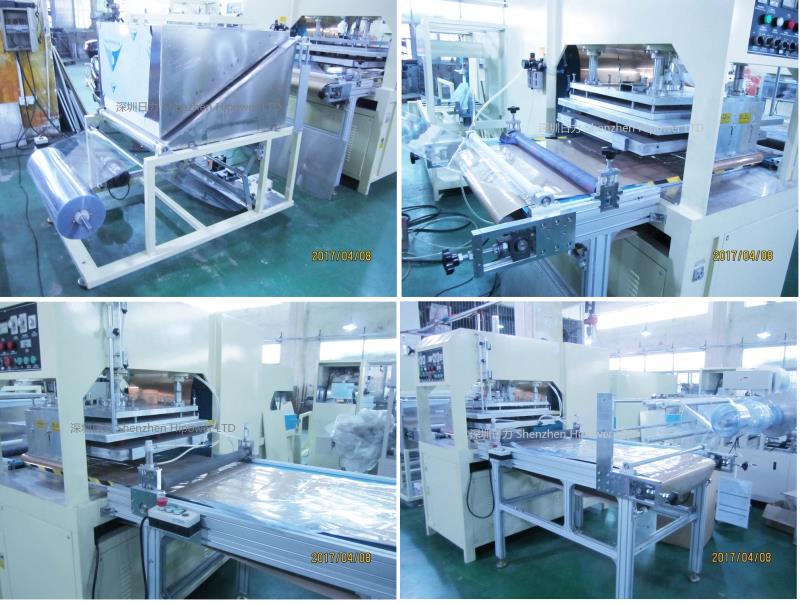 Machine Drawings: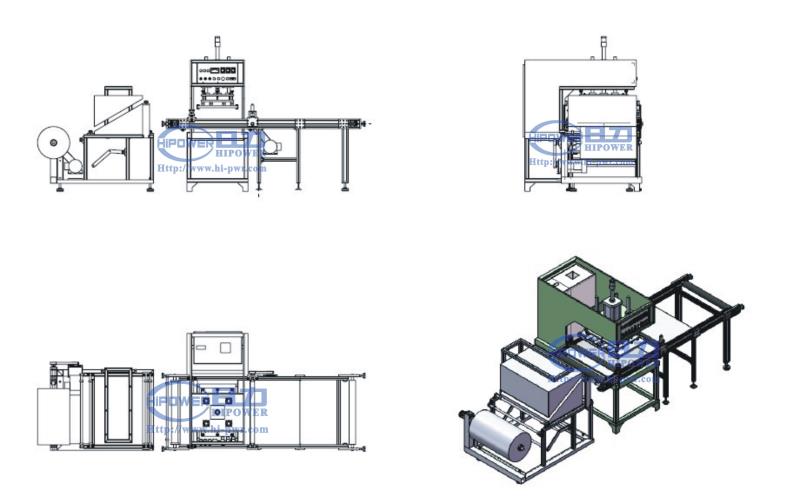 Machine General Features: 1. Length, width and radian of welding area can be adjusted by change welding die.
2. European-model square high frequency vibration box, more reliable and stable in output
3. Automated Three-in-one machine :
Auto PVC film flattening----(Optional: auto offset printing)---auto soft crease forming & waste scrap cutting
4. PLC & HMI Touch screen operated, making the operating process simple and time-saving
5. Servo-motor automated, enables exact off-set printing effect, box & scrap cutting performance
6. Separated Continuous simple flattening system for PVC film
7. High frequency welding press pneumatic and hydraulic operated (two phase pressing:
The first phase for soft crease forming,
The second phase for waste scrap cutting)
8. High sensitive 5557 anti-flash system to protect the welding Mould
9. Human oriented mechanical frame design
10. Mould heating function available, enables beautiful soft crease forming.
11.Customized work table dimensions, electrode holder dimensions, tooling
12. Online service by Email, Fax, Video Online- allowing remote live video servicing of
basic setup and repairs through the use of face-to-face online video.
13. Customer's site installation, training & maintenance available
14. CE rated machine; factory verified by SGS and BV;
We developed this high frequency machine for the PVCsoft-crease boxes,also known as
PVC folding box /Offset Printing Folding Boxes/PVCfoldable box ,etc.
This is an automatic high frequency soft line creasing machine with flattening system ;
It works with the transparent roll of PVC, go through the flattening system first,before material creased by High Frequency Machine .
This machine makes the perfect creased line on the flat PVCsheet according to the shape
of the box which makes the box easy to fold , fast to pack and elegant inappearance.with
perfect and clean cutting finish ,it easily goes with next production step : the side gluing machine